Quality Service, Integrity and Pride
We have been in this industry since 2003. All Temp Solutions has a high retention rate and our clients love us. We have all the required certifications and education to be highly proficient and serve the constituents of Palm Beach County. All Temp Solutions has a strong desire to leave a positive legacy for many generations. The owner (Andres) is a Father of 3 kids and husband to loving wife and successful realtor Maritza. All Temp Solutions prides itself with amiable and five-star customer service. We energetically enjoy a strenuous days work regardless of the weather however it must be safe conditions. We relish in constantly learning new tricks to our trade and love the instant gratification of helping people. Andres left a big company because they began treating employees and clients like numbers. Andres is a gratifying individual who firmly believes in a more personal approach. At All Temp Solutions we have a strong desire to know the wants, needs, and desires of each client we provide for. All Temp Solutions can repair all types of air conditioning units, electric pool heaters, clean dryer air ducts, while creating a premium indoor air quality, and offer best in the business maintenance plans. Although we are based in Lake Worth Florida we service clients all over Palm Beach County, Martin County, St. Lucie County, Broward County, and Dade County.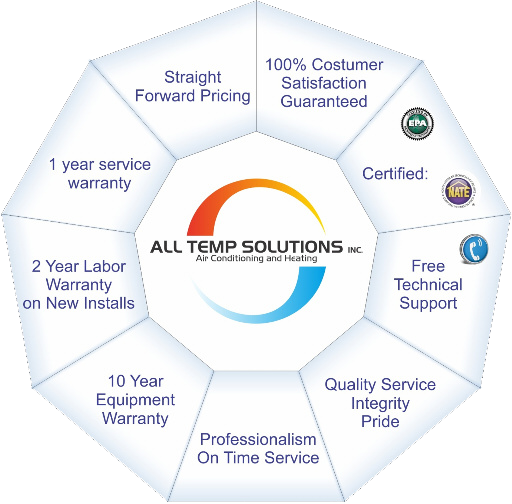 You Can Trust In All Temp Solutions!
☆ Straight Forward Pricing
☆ 1 Year Service Warranty
☆ 2 Year Labor Warranty on New Installs
☆ 10 Years Equipment Warranty
☆ Professionalism - On Time Service
☆ Quality Service - Integrity - Pride
☆ Free Technical Support
☆ EPA and NATE Certified
☆ 100% Satisfaction Guaranteed
We have several Certifications
We are proud of what we do and we earn your business with honesty. We do it right!!! This company certifies the technicians with rigorous testing and validates our knowledge and experience. We also have continuing education on a regular basis. Knowledge builds trust…trust builds loyal costumers.
We are a Green Company
EPA Certified (Environmental Protection Agency)
NATE Certified (North American Technician Excellences )
We Offer great Warranties
One year parts and Labor on repairs ( Most companies only give 90 days we make the differences )
Two year labor warranty on new installations (Most companies only offer one year)
10 year warranty on new Equipment
Residential only (all companies offer that)
We also offer extended labor warranties for additional coast.
Straight Forward Pricing
This is what our customers can expect:
Knowing exactly how much our visit cost.
Our price is known upfront regardless of how long the job would take.
EXAMPLE: No Matters how long it takes, there is not extra charges for you. We don't!
100% Costumer Satisfaction Guarantee
It's important for us that our customers are satisfied, a happy customer is a customer for life and a secure referral for future business.
Free Technical Support
In order to help our costumers save money, we guide and offer our costumers support through the phone in small issues and specific situations if this is what they prefer
There are some handy people, but we all know there are clients that prefer immediately assistance, but we always provide this option.